"Feed the Need" 2020 Fundraiser at the Academy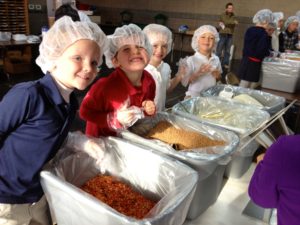 Academy of Excellence is excited to host a "Feed the Need" fundraising event! Our students and families are contacting family members, friends, and businesses to sponsor them in this event.
On November 21, 2020, Academy families, friends, students, and staff will come together to pack 10,000 meals! This includes sealing and boxing them for shipment to schools and orphanages in Haiti! 1500 of these meals were held here in Eureka Springs to be distributed to local food banks.
As you can see from last year's images below, this is a very special event of serving others and not just another fundraiser!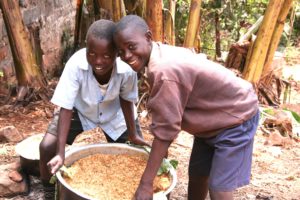 Your participation helps to:
• provide more technology equipment – iPads/computers, Coding and Robotics training materials/activities – to prepare our students with skills for 21st century technology and careers
• supplement our PE equipment and improve the AOE playground area–as we strive to provide an optimal learning environment for AOE students.
The Academy is Grateful for our
2020 Feed the Need Sponsors!

LOVE Sponsors
Kerusso
New Leaf Publishing Group
American Fade Master Barber Shop
Bryce's Bail Bonding
LEAD Sponsors
Nighthawk Custom
Worley's Tire
Scarlett's Lingerie & Curiosities, Ltd.
Harold's Self-Storage
GREEN Sponsors
Enchanted Forest Resort
Jon Phillips Construction
BLACK Sponsors
Farm Bureau Insurance, John Fowler, Agent
Arvest Bank
Barrows Excavation
Powell Feed & Milling
Battery Outfitters, Inc.
WHITE Sponsors
Turtleback Ridge Family Fun Park
Wonderfully Made
First National Bank of North Arkansas
Mane Street Salon
Teigen Insurance, LLC
Thompson Ready Mix
Windle & Associates
Worley's Rental
Enjoy 2020 Photos of "Feed the Need" Fundraiser Event!